Here are some of our highlights from 2022:
We kicked off the Czech presidency of the Council of the European Union in June by bringing France and Sweden (the previous and following presiding states) closer to the Czech public with a wide range of both educational and cultural events. With the other two capital cities in the Presidency trio - Paris and Stockholm - we showed Prague citizens what are the priorities of the Czech Presindency at Prague meets Europe and many other accompanying events at various locations across the city.
As a part of the EU Presidency, we hosted a two-day external meeting of the European Committee of the Regions (COTER), focusing on how to better finance the decarbonisation of public transport through cohesion policy and other EU instruments, remove administrative bottlenecks and give cities direct access to EU funds. Read more about the main issues discussed during a two-day event in our article: Local leaders urge fast-tracking of EU investment into clean public transport.
As the main event of the Presidency, we organized the Prague Summit of Cities, welcoming more than 30 Mayors and Deputy Mayors, including not only Mayors of V4 countries - Mr Vallo (Bratislava), Mr Trzaskowski (Warsaw) and Mr Karacsóny (Budapest), but also Mr Šimašius (Mayor of Vilnius), Ms Jerlmyr (Mayor of Stockholm), Mr Veliaj (Mayor of Tirana), Ms Giffey (Mayor of Berlin), or Mr Cori (Deputy Regional Director or UNICEF). The focus of the Summit was on the subject of Ukraine's post-war reconstruction and will also offer a common platform for discussion on the development of our cities.
On the first day of the event, the Summit of the Pact of Free Cities was held, welcoming Vitali Klitschko to Prague and focusing on the reconstruction of Ukraine (more in our article here).
On the second day, we hosted the 11th Direct Dialogues between the Mayors of EU capitals and the European Commission, represented by its VP, Frans Timmermans, who gave his thoughts on energy self-sufficiency in the face of crisis.
The public part of the both events was co-organised by CAMP - Center for Architecture and Metropolitan Planning and moderated by Andrew Tuck, so our huge thanks to both! You can watch a live stream from both event days here: Day 1 and Day 2.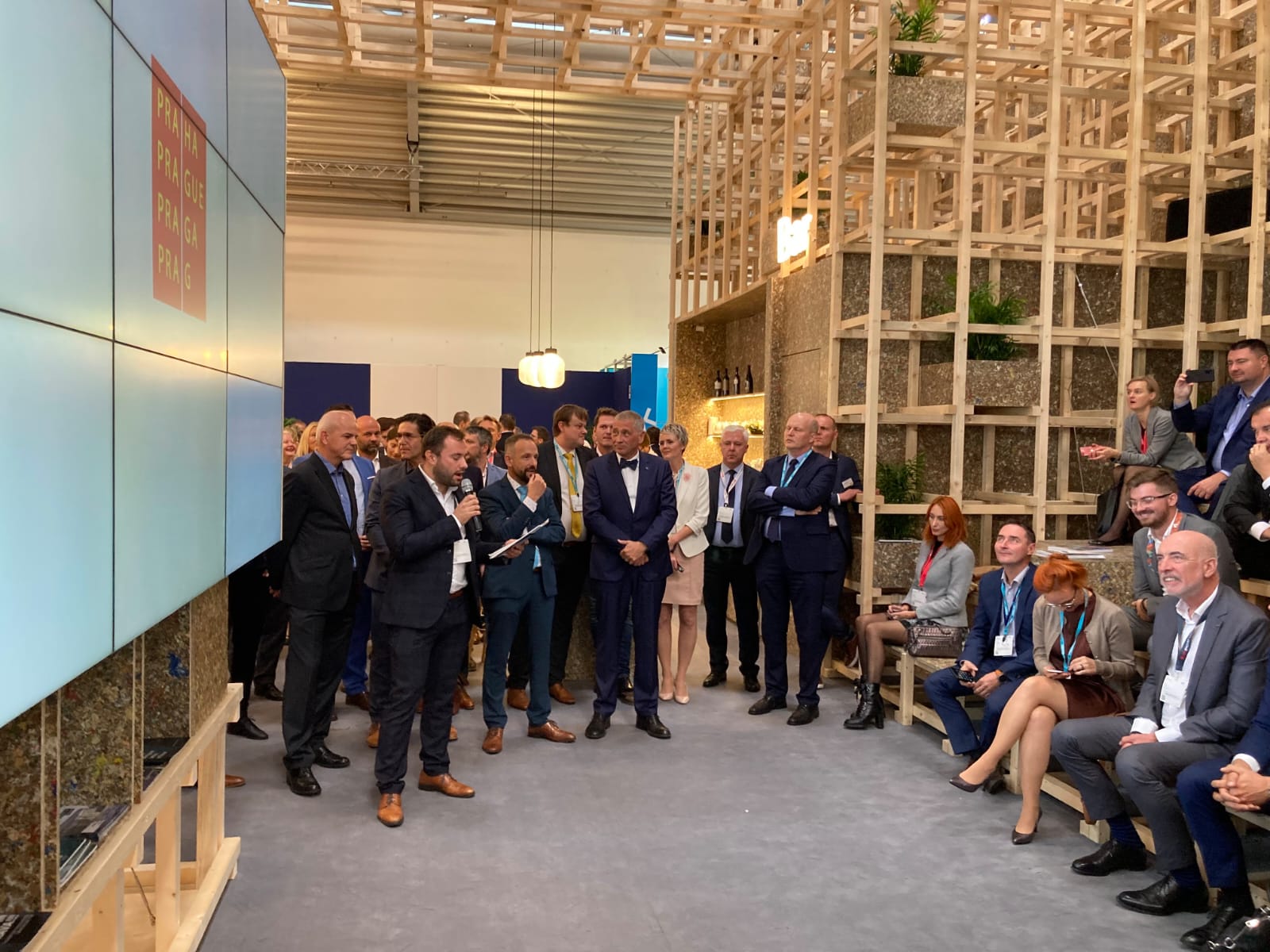 In October, we attended EXPO REAL (Messe München), which is the biggest fair trade for real estate and investment held annually in Munich, where Prague along with Ostrava and Moravian-Silesian region presented the news related to urban development in Prague.
We attended Smart City Expo World Congress in Barcelona, where Prague along with CzechTrade and Operátor ICT showcased its Smart City solutions to thousands of visitors from all around the world. A total of 8 companies presented their innovative products in the field of air quality analysis (AG Data), urban hydroponic systems (ForestBit), smart technologies for quick repairs of broken roads (FUTTEC a.s.), community car sharing (Xmarton s.r.o.), applied research focusing on urban innovations (ČVUT UCEEB), creative reprocessing of used coffee grounds (reKáva), digitalization of the real estate market (Igluu.cz), information and communication technologies (Simac Technik ČR, a.s.), and intelligent lighting systems (TESLA lighting). Find more information in our article: Prague presented the future of urban innovation at Smart City Expo.
As the Russian war continues during the winter months too, the City continues to help the Ukranian refugees in Prague and also coordinated the humanitarian aid to Ukraine, such as the shipment of generators and power stations which were donated to the cities of Kiev and Mykolayiv, as well as trams and buses donated to the cities of Kharkiv and Khmelnitsky. Read more here: Prague sends humanitarian aid to Ukraine.
Last, but not least, we launched this brand new website and Prague City Diplomacy LinkedIn page.
Stay tuned for our projects and events in 2023!